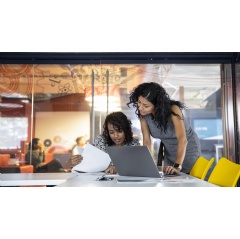 Aviva plc invests $10 million in the Female Innovators Lab Fund
WEBWIRE
–
Monday, September 26, 2022
Women entrepreneurs currently run just 4% of UK tech startups and that needs to change. The Female Innovators Fund is one way to support this untapped talent. -Ben Luckett, chief innovation officer at Aviva
Aviva, the UK's leading insurer, today announced a $10 million investment in the Anthemis Female Innovators Lab Fund. The fund was founded in September 2019 and supports female fintech entrepreneurs in the UK, Europe, Canada and the US. Aviva's investment will specifically support UK-based fintech companies that are founded by women. Currently, only 4% of UK fintechs are run by women.
Aviva will be a strategic partner of the Fund, which is the largest women-focused fintech fund and is anchored and co-founded by Barclays. The Fund deploys capital directly into innovative women-led businesses in the financial sector and provides women entrepreneurs with access to financial and intellectual resources through the Fund's extensive network of advisors and experts.
Ben Luckett, chief innovation officer at Aviva, said: "Female entrepreneurs currently run just 4% of UK tech startups and that needs to change. The Female Innovators Fund is one way to support this untapped talent. Working with the Fund means more than just a financial contribution, we will have opportunities to partner, learn and invest directly in start-ups where they can benefit Aviva and our customers. We are delighted to work alongside Anthemis and Barclays to help reduce gender inequality in financial services.
Aviva plays a leading role in supporting female leadership and gender equality in the financial services industry. Amanda Blanc, CEO of Aviva Group, is the champion of the Treasury's Women in Finance Charter – spearheading efforts to boost gender diversity in UK financial services. Aviva also supports the UK Government's Investment in Women Code which advances women entrepreneurs in the UK by improving access to financial services industry tools, resources and funding.
—-
Remarks
We are the UK's leading insurance, wealth management and pensions company and operate in the UK, Ireland and Canada. We also have international investments in Singapore, China and India.
We help our 18.5 million customers get the most out of life, plan for the future, and know that if things go wrong, we'll be there to fix them.
We've been caring for people for 325 years, consistent with our goal of "with you today, for a better tomorrow". In 2021, we paid out £30.2 billion in claims and benefits to our customers.
Aviva is a market leader in sustainability. In 2021, we announced our intention to become a net-zero carbon company by 2040, the first major insurance company in the world to do so. This plan means zero net carbon emissions from our investments by 2040; define a clear trajectory to achieve this with a 25% reduction in the carbon intensity of our investments by 2025 and 60% by 2030; and net zero carbon emissions from our own operations and supply chain by 2030. To learn more about our climate goals, visit www.aviva.com/climate-goals and our ambition for sustainable development www.aviva.com/sustainability.
Aviva is a living wage and living hours employer and offers industry-leading benefits to our employees, including flexible working, paid caregiver leave and equal parental leave. Learn more at https://www.aviva.com/about-us/our-people/
As of June 30, 2022, total Group assets under management at Aviva Group were £353 billion and our Solvency II excess capital was £10.3 billion. Our shares are listed on the London Stock Exchange and we are a member of the FTSE 100 Index.
For more details about what we do, our business and how we help our customers, visit www.aviva.com/about-us
(Image from press release: https://photos.webwire.com/prmedia/6/294725/294725-1.jpg )
Related links
WebWireID294725
This news content was set up by WebWire's editorial staff. Linking is allowed.
Press release distribution and press release distribution services provided by WebWire.