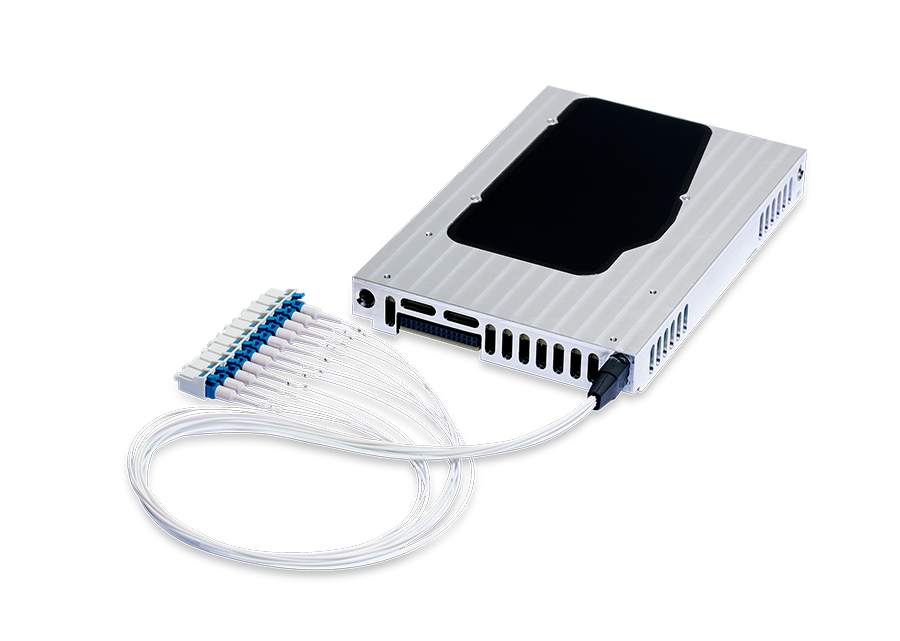 Sydney plant accounts for half of global internet traffic
Brent Balinski talks to Jon Bulman, Manufacturing director at Finisar, which has assembled and exported approximately $2 billion worth of optical products from Sydneyalthough it is an unfamiliar name to most Australians.
There are Australian companies whose impact is so significant that a mention of where they made their mark might, by association, bring the company name to mind in your head.
Hearing implants. Cochlear. Sleep apnea treatment? ResMed. Carbon fiber car wheels? You may have just thought of Carbon Revolution.
For internet traffic, such an association is weaker or even non-existent, which is unfortunate. Finisar Australia – founded in 2001 as Engana – builds essential data transport devices that we routinely depend on.
"We produced wavelength-selective switches here in volume for over ten years; they have been integrated into systems built by major telecommunications network companies, which deploy their systems around the world," said Finisar Chief Manufacturing Officer Jon Bulman. @AuManufacturing during a visit to the company's Rosebery factory.
"Optical communications networks carry mobile phone, video and Internet data. Given our market share, it's… fair to estimate that around half of the world's internet traffic passes through our devices.
Finisar has developed and manufactured around $2 billion worth of optical communications products from Sydney, he estimates. It operates a collection of cleanrooms, R&D, logistics and other functions at Rosebery, having originally been housed at the Australian Technology Park.
Its main products are liquid crystal on silicon (LCOS) wavelength-selective switches, a niche it created that has made it possible to transport increasing volumes of data via reconfigurable networks.
"At a site in a network, you can add or remove channels to follow different paths, continue on the main network path, or branch out," Bulman explains.
"You can think of a switch as the intersection of two freeways, where traffic can enter or exit in any direction. The WSS selects the wavelengths of light, or channels, on an incoming fiber and directs them to one of the outputs. »
Assembly and calibration
Over a quarter of a million LCOS WSS modules have been shipped from the manufacturer so far.
Ownership has changed over the years, but "the business remains basically the same" for the Australian operation, according to Bulman.
Engana was acquired by Optium in 2006, Optium by Finisar in 2008, Finisar by II-VI in 2019, and after completing its acquisition of Coherent earlier this month, NASDAQ-listed II-VI will be renamed Coherent.
Underneath it all, Finisar Australia continues to operate independently. Bulman notes that for the 2019 acquisition to proceed, Chinese regulator SAMR required the Australian company to operate separately from II-VI. Such is the international significance of what she does.
The company's supply chain is complex, with LCOS made in South Korea, grism (combined diffraction grating and prism) from the United States, and PCBs from Thailand.
Production machinery used overseas, key to the company's success, is manufactured in Sydney. Everything is connected to the company's MES, which it developed in-house, enabling real-time monitoring and control from Sydney as its operations expanded internationally.
"Once we've combined the optical unit with a circuit board, we can calibrate the module, which is a key step in our manufacturing process," says Bulman of the assembly at Rosebery.
"Optical components, mirrors, lenses, and prisms are all pieces of glass that are aligned together with sub-micron positioning accuracy."
Still, there are imperfections, which may be minimal but need to be corrected.
"The calibration process allows us to measure the optical characteristic of each module and then determine the algorithm required to create images on the LCOS that will direct light to correct small errors in the optics.
"Essentially, each module's software is programmed individually, using an automated AI system, to digitally compensate for variations."
A schedule schedules the schedule for each module that is shipped from Rosebery. Who programs this? Bulman dismisses the question with a laugh.
"Australia can be competitive"
Bulman says about 100 of the site's 250 employees are involved in production, and about 30% of the production team has been there for ten years or more. Overall, the average staff member has been there for seven years or more, and 40% for more than ten years.
Of the approximately 100 people involved in technology, product development or engineering roles, half have post-graduate training and a quarter have PhDs.
There are moves from company to company in the small world of high-tech electronics in Australia. Bulman brushes off another question, about poaching tensions in a situation where it's hard to find specialist staff, saying it doesn't pay to hold grudges in such a close community. In addition, the transfer of knowledge between companies creates a wider advantage.
Bulman says he has noticed a resurgence in high-tech manufacturing in Australia, but fears those gains are threatened by the current economic fragility.
There is a need to continue the industry expansion seen since 2020, he says, for reasons such as resilience to future shocks, our traditional reliance on resource extraction and because our standard of living is in decline. Game.
His story may not be as well known as it deserves, but the 21-year-old photonics innovator shows that world-changing companies can thrive here.
"When we adopt manufacturing technologies such as robotics and Industry 4, production costs in Australia can be competitive with other industrial nations," says Bulman.
"Even small, remote countries like Korea, Ireland, New Zealand and Israel are increasing their manufacturing output and creating manufacturing jobs. We should be able to do the same.
Main photo: A WSS (image credit Finisar/Jon Soe)
A lengthy interview with Bulman, covering topics such as supply chain and skills challenges in this era, R&D at Finisar and more, will be available Friday via the @AuManufacturing Conversations podcast.
Subscribe for free to our @AuManufacturing newsletter here.