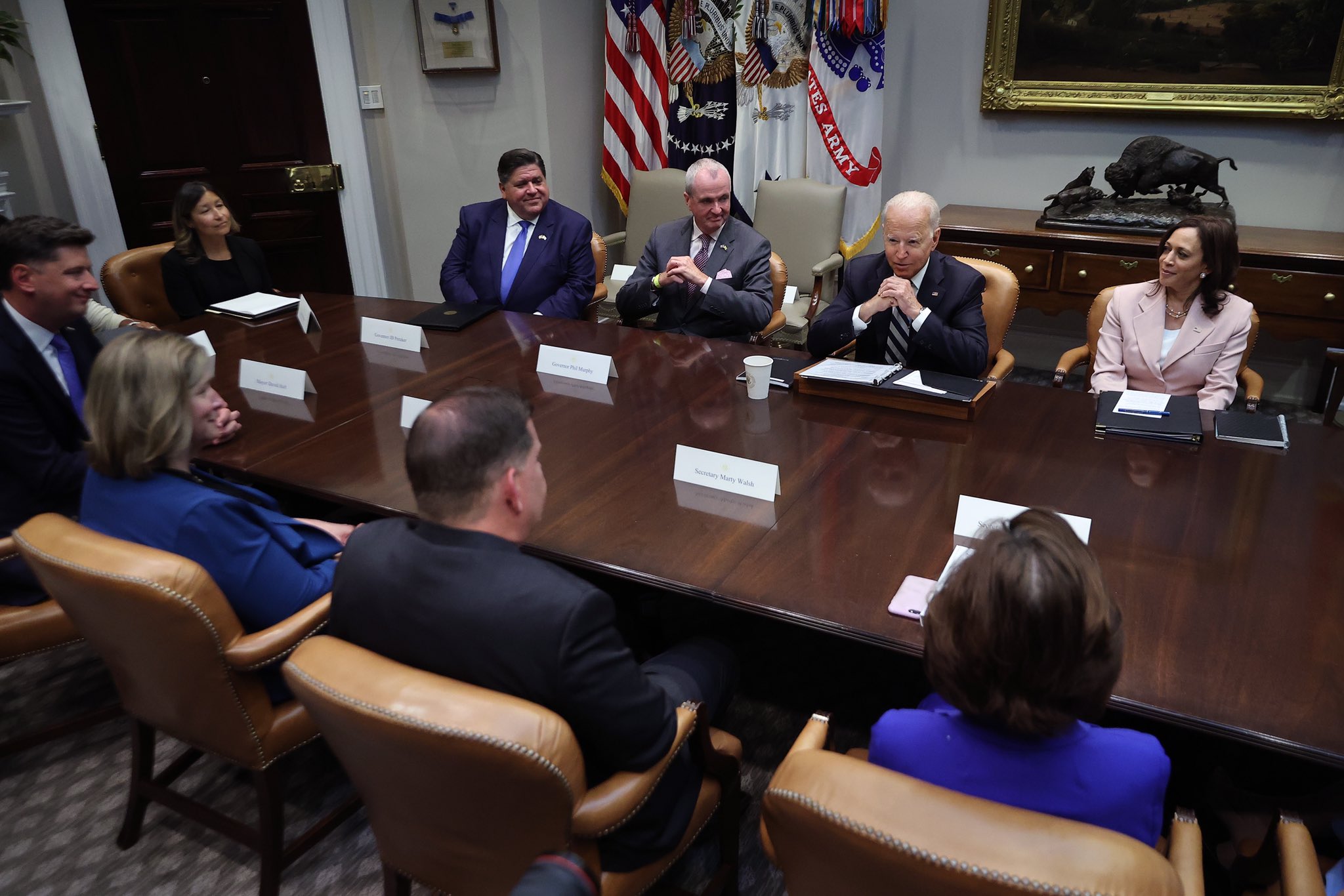 Governor's Office | This week in New Jersey: July 16, 2021
[ad_1]
Governor Murphy, bipartisan group of governors and mayors meet with President Biden to discuss infrastructure framework
Governor Murphy and a bipartisan group of governors and mayors met with President Biden at the White House to discuss the bipartisan infrastructure framework. While in Washington DC, Governor Murphy also attended a White House dinner with German Chancellor Angela Merkel.
The governor also met with US Senate Majority Leader Chuck Schumer and US Senator Bob Menendez to discuss the need for investment in infrastructure, including the Gateway program.
SEE THE PICTURES
Moody's raises New Jersey credit outlook to positive
Moody's noted: "The government has responded to the improved income and liquidity situation with several actions reflecting a recent commitment to more aggressively tackle its liability burdens, demonstrating fiscal governance and management. improved. These actions include debt reduction and avoidance and acceleration of pension contributions.
"Over the past four years, we have approached the tax challenges we have inherited, not as obstacles, but as opportunities to straighten out our tax vessel," mentionned Governor Murphy. "On the heels of a record 11 credit downgrades under the previous administration and in the midst of an unprecedented global pandemic, we have provided historic levels of pension funding – including the first full contribution in a quarter of century – set aside money to pay off a significant portion of government debt and avoid future issuance, secure long-term savings for the government and its taxpayers, build our surplus, and position ourselves well to recover the remaining challenges that lie ahead. The fact that we were able to accomplish all of this while creating a fairer and more level playing field for working families in this state is a testament to our values. I would like to thank the Treasurer and her team for their continued leadership, especially during the economic upheavals we have faced over the past two years. "
READ MORE
Governor Murphy signs law elevating strangulation assault to second degree felony
Governor Phil Murphy signed a law (S2503) that makes assault by strangulation a second degree felony, punishable by imprisonment of up to ten years, a fine of up to to $ 150,000, or both.
"The murder of Yasemin Uyar by a repeat domestic abuser was horrific and appalling," Governor Murphy said. "Research has shown that strangulation is often one of the strongest red flags for predicting future homicides of victims of domestic violence. This legislation recognizes the seriousness of strangulation assaults and gives us the tools to hold people accountable for their actions. "
READ MORE
Governor Murphy and Lieutenant Governor Oliver highlight historic investments in housing affordability and security in FY2022 Budget
Governor Murphy and Lieutenant Governor Oliver highlighted public funds that will finance and build hundreds of new affordable housing units; provide housing assistance for low-income New Jerseyans; continue our progress towards ending homelessness; expand mortgage and down payment assistance for low-income families and essential workers; and help accelerate the approval of new affordable housing units.
"As we continue our state's recovery from COVID-19, we must also invest in long-term housing stability and affordability in New Jersey." Governor Murphy said. "I am proud that this budget allows us to advance a broad housing affordability strategy. By making these investments, we can provide greater housing security for low-income New Jersey families, help many first-generation homeowners begin to build wealth through homeownership, and significantly expand our affordable housing stock.
"Stable, quality housing that people can actually afford has the incredible ability to transform lives and communities" said Lieutenant Governor Sheila Oliver. "The state's unprecedented multibillion-dollar investment in housing will not only address the huge impact COVID-19 has had on our tenants and landlords in New Jersey, but will also expand our existing housing programs. and will create new ones. It is such an exciting and rewarding time to get involved in housing as we seize an opportunity with a vision and a purpose to help thousands of families find a place where they can feel at home.
READ MORE
Governor Murphy and Secretary Bridges announce nearly $ 30 million award winners to fight COVID-19 impacts on post-secondary students
Governor Phil Murphy and Secretary of Higher Education Dr. Brian Bridges announced the recipients of nearly $ 30 million in federal funding to be distributed to higher education institutions in New Jersey.
"Our higher education institutions have provided high quality education to our students throughout the pandemic, despite difficult circumstances." Governor Murphy said. "Supporting our institutions will continue to be a priority as they strive to provide a fair educational experience for students, prepare them for the jobs of the future and meet the challenges of the future. "
"With this vital federal funding, New Jersey is putting the needs of students first and ensuring our workforce is prepared for the challenges of tomorrow's post-pandemic economy." said Secretary Bridges. "We appreciate institutions taking on this challenge and look forward to learning from innovative best practices implemented as we strive to meet the state's goal of 65% of residents graduating from high quality by 2025. "
READ MORE
[ad_2]