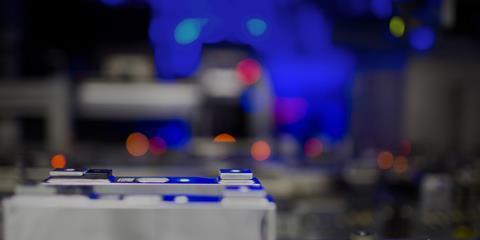 CATL Partners with BASF for Electric Vehicle Battery Recycling to Support European Supply Chain | New
[ad_1]
Contemporary Amperex Technology (CATL), one of the world's largest manufacturers of lithium-ion for electric vehicles, has announced a strategic partnership with German chemicals company BASF in battery material solutions that will support battery recycling and help support CATL's plans for the production of battery cells in Europe.
According to a statement from CATL, the partnership will include alignment work on cathodic active materials (CAMs) and battery recycling and develop a sustainable battery value chain, helping CATL achieve localization in Europe and support targets global carbon neutrality campaigns of the two companies.
CATL is building a battery call plant in Erfurt, eastern Germany, which will support lithium-ion battery production for OEMs in Europe. The plant, which has been under construction for two years, is expected to start production in 2022 and reach an annual capacity of 14 gigawatt hours (GWh) (read more about gigafactory locations in the global Automotive Logstics database).
Through its partnership with BASF, CATL seeks to create a local battery recycling network and secure access to raw materials to improve efficiency for European customers, said CATL Managing Director Zhou Jia.
BASF is the largest supplier of chemicals to the automotive industry and has established itself in the CAM market as well, including maintaining a global manufacturing and R&D footprint and a large portfolio of medium to high-grade CAMs. nickel, rich in manganese and cobalt free.
BASF Board Member Dr Markus Kamieth said CATL's expertise in lithium-ion batteries will accelerate innovation and help shape a sustainable battery supply chain.
CATL and BASF declined to comment on potential locations of recycling capacity at this point.
Location of electric vehicle batteries in Europe
As OEMs ramp up battery production, the ability to recycle and reuse materials will be important to avoid shortages of some important metals such as cobalt, nickel and manganese.
Typically, the life of a motor vehicle battery is at least 8-10 years. However, once a battery drains to its threshold of 70% or less, the battery can still be recycled.
Currently, the overwhelming majority of battery recycling capacity is in Asia, which means most batteries used in other markets will need to be sent to Asia for processing.
China, in particular, accounts for more than two-thirds of all recycling facilities handling the roughly 100,000 tonnes of batteries currently recycled, according to a special report on the Automotive Battery Supply Chain from Ultima Media. South Korea is in second place with about one sixth of global recycling.
While this means that China is ready for huge investments, governments and regulators in Europe and other regions are pushing to locate battery supply chains both to ensure security of supply as well. that to capitalize on the economic value and offset the loss of industry and jobs associated with internal combustion engine (ICE) powertrains.
For more information, see the special battery report. [*right click on link and choose 'pop-up button' on website]
Meeting global demand
This desire to increase recycling capacity comes at a time of growing demand for electric vehicles. In Europe, demand is expected to increase in the coming years due to pressure from the EU to completely decarbonize the continent's roads.
China and Europe are striving to increase battery production to meet growing demand, making recycling capacity essential for the industry.
CATL is also investing heavily in China. In August, it announced its intention to build 137 GWh of lithium-ion battery capacity per year by raising 58.2 billion RMB ($ 529 million) on the stock market. The investment will go into five projects in China in Fujian, Guangdong and Jiangsu. These sites are expected to be completed within the next three years to meet the growing demand for EVs and lithium batteries.
In addition to the 20 national factories that CATL plans to build, its expansion in Germany is an important part of developing a global footprint.
The company started planning the construction of the lithium-ion battery gigafactory in Erfurt in 2017, while CATL also took a 22% investment in Finnish Valmet Automotive as part of a strategic partnership. Valmet Automotive is both a contract manufacturer of vehicles, including for Mercedes-Benz, and has also increased its capabilities and capacity to manufacture battery packs for electric vehicles. It has just opened a new battery pack production hall in the same factory where it assembles vehicles. [Link to Valmet story].
BASF is also looking to expand its production in China. In May, the company formed a joint venture with the major Chinese producer of lithium battery materials Ningbo Shanshan – BASF Shanshan Battery Materials.
JV sites are based in Hunan Province, central China, and Northwestern Ningxia Hui Autonomous Region. The factories currently have an overall capacity of 60,000 tonnes per year for cathode materials, with plans to increase it to 90,000 tonnes per year by 2022.
[ad_2]