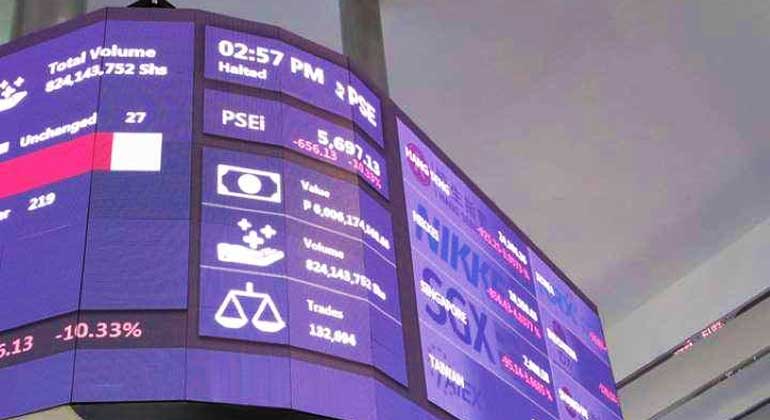 Fall in PHL shares following profit taking and rising oil prices
[ad_1]
PHILIPPINES stocks fell on Monday on profit taking amid inflation concerns as global oil prices continued to climb.
The 30-member Philippine Stock Exchange (PSEi) index fell 78.07 points or 1.07% to close at 7,211.54 on Monday, while the broader all-stock index lost 25, 86 points or 0.57% to finish at 4,436.84.
"The PSEi corrected lower after global oil prices remained high, persisting among seven-year highs, which could lead to a slight rise in inflation," said Michael L. Ricafort, economist Chief of Rizal Commercial Banking Corp. (RCBC), in a Viber message.
"Wider budget deficit data, the largest in four months, also partly led to good profit taking in the local stock market, as it could lead to more government borrowing and outstanding debt. ", added Mr. Ricafort.
Oil prices rose further on Monday as US crude hit a seven-year high as global supply remained tight amid strong global demand, Reuters reported.
Brent crude rose 0.83% to $ 86.24 a barrel, while U.S. crude rose 0.80% to $ 84.51.
Meanwhile, the government's budget deficit widened 30 percent to 180.9 billion pesos in September, from 138.5 billion pesos a year earlier, as spending exceeded a smaller increase in revenue collection , the Treasury Office reported on Monday. It was also 49.6% higher than the gap of 120.9 billion pesos observed in August.
Timson Securities, Inc. trader Darren Blaine T. Pangan said in a Viber post that the market ended lower as investors were cautious and opted to sit on the sidelines ahead of the release of more third quarter earnings of Business and US Gross Domestic Product (GDP) Data.
Traders await the third quarter US GDP figures, due Thursday, with a weak impression likely to weigh on the dollar.
The majority of sector indices fell on Monday, with the exception of financials, which gained 3.50 points or 0.22% to 1,555.75, and services, which gained 3.82 points or 0.2% at 1,878.44.
Meanwhile, real estate lost 82.42 points or 2.45% to end at 3,272.16; the holding companies lost 113.74 points or 1.55% to 7,213.68; mining and petroleum fell 52.03 points or 0.49% to 10,456.09; and industrials lost 28.79 points or 0.27% to close Monday's trading session at 10,644.61.
Turnover in value amounted to 5.57 billion pesos on Monday with 913.57 million shares having changed hands, exceeding 5.32 billion pesos with 785.36 million issues traded on Friday.
The declines beat the leads, 120 to 75, while 55 names ended unchanged on Monday.
Net foreign purchases stood at 79.74 million pesos yesterday, a reversal of the 17.86 million pesos in net outflows recorded on Friday.
RCBC's Mr. Ricafort placed PSEi's immediate support at 7,000 and his next resistance at 7,400-7,500.
Diversified Securities, Inc. stock trader Aniceto K. Pangan said via text message that the benchmark could drop from 7,000 to 7,450 this week. – BADA with Reuters
[ad_2]